Boredom can set in quickly for a passenger on a long car ride. Munich-based startup holoride, however, can turn it into an exciting journey into virtual worlds thanks to sophisticated XR technology. On March 18, holoride will compete at the SXSW Pitch in the "Entertainment, Gaming and Content" category.
"Are we there, yet?" Not just kids ask this question over and over again on car trips. Many adults can't get to their destination fast enough either if they have to spend time in the passenger seat. After all, reading, watching a movie, or playing on a smartphone isn't much of a solution if it makes you feel sick. Nausea, or more specifically "motion sickness," is also a problem with a number of virtual or extended reality (XR) applications,when the movements in a game do not match the movements in reality. holoride now solves both problems in one fell swoop with its technology.
The founders met at Audi
It's no coincidence that holoride's three founders, Nils Wollny (CEO), Daniel Profendiner (CTO) and Marcus Kühne (CXO) have focused on an automotive issue. After all, all three of them worked at Audi, though initially in different areas. At some point, however, they realized that they were pursuing very similar ideas and pooled their skills. As Head of Digital Business, Nils was the man for business issues, Daniel the technology expert, and Marcus the strategist. As they moved forward with their project, they realized that they needed to aim for a solution independent of a single car manufacturer. As a result, they spun off holoride at the end of 2018. However, the startup naturally remained closely associated with Audi, and accordingly the Ingolstadt-based company was a partner together with Disney at the first official appearance at CES 2019 in Las Vegas.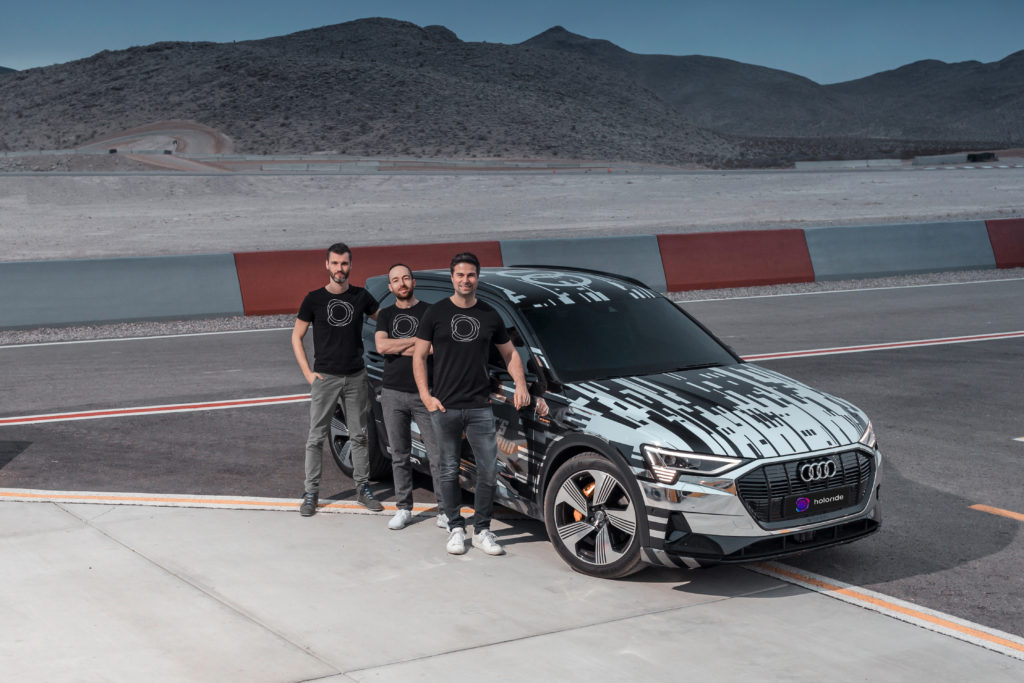 Traveling to virtual worlds with special glasses like Microsoft's HoloLens is a quite complex affair that almost always comes with one major limitation: travelers have little room to move or even sit on the sofa while they travel in infinite expanses. This contradiction makes the experience seem less realistic and can lead to the aforementioned motion sickness. This does not happen with holoride because the movements in reality correspond exactly to those in virtual reality. For example, if the car turns left, the spaceship in a space game also turns to the left and it flies at a speed that corresponds to that of the vehicle.
XR, IoT and AI – holoride has a lot going for it in terms of technology.
In order to implement this technologically, holoride takes from areas such as the Internet of Things (IoT) and artificial intelligence (AI ). For example, the software uses real-time data on a vehicle's position, navigation route, and speed, as well as steering, braking and acceleration behavior. This falls under the category of IoT. The resulting data is visualized in an extended reality using AI. The challenge, then, is to synchronize images and movements precisely, while also creating a plausible gaming experience. And since no two car rides are the same, no two experiences are the same.
"Elastic Content" is what holoride calls this principle. The term hints at how versatile the technology is. For example, two travelers can have completely different virtual experiences on the same car trip. One might be on a trip through a cartoon world, collecting points at every traffic light, while the other is on a dinosaur safari in a prehistoric landscape. And when rain pelts the car roof, colorful candies fall from the sky there and meteorite showers from the sky over there.
It's no wonder that the entertainment industry has shown interest in holoride on several occasions. A joint project with Ford and Universal Pictures is a good example. Under the title "Bride of Frankenstein," a car ride became a ghost train ride with amazing virtual shock effects. The holoride team will certainly do without these at their SXSW Pitch on March 18 and will instead present it in a very classic way without XR elements. And yet the theme fits in quite well with SXSW 2021, where Austin is basically just a virtual place this year.