"Ladies Dinners" have been around in Germany for quite some time, with the first digital edition taking place in Hamburg last November. Now, as part of SXSW Online 2021, there was a very special premiere: the first transatlantic Ladies Dinner! We summarize here which exceptional women met there, what they had to discuss and what role sustainability played.
At a classic "Ladies Dinner," successful women from a wide range of industries, including entrepreneurs, networkers and investors, meet to share their knowledge, network and initiate collaborations, and all of this combined with delicious food. In the age of Corona, such meetings in physical form are understandably impossible. But why not transfer this format into the digital space and virtually connect experts and founders from all over Germany and the American city of Austin, Texas?
This made the SXSW edition of the Ladies Dinner an international event and, with the time difference in the U.S., more of a lunch. To get in the mood for this special "Female Leaders in Sustainability" event, all participants were sent a little surprise in advance. And, of course, there was plenty to talk about on the topic of sustainability.
Great experts come together at the Ladies Dinner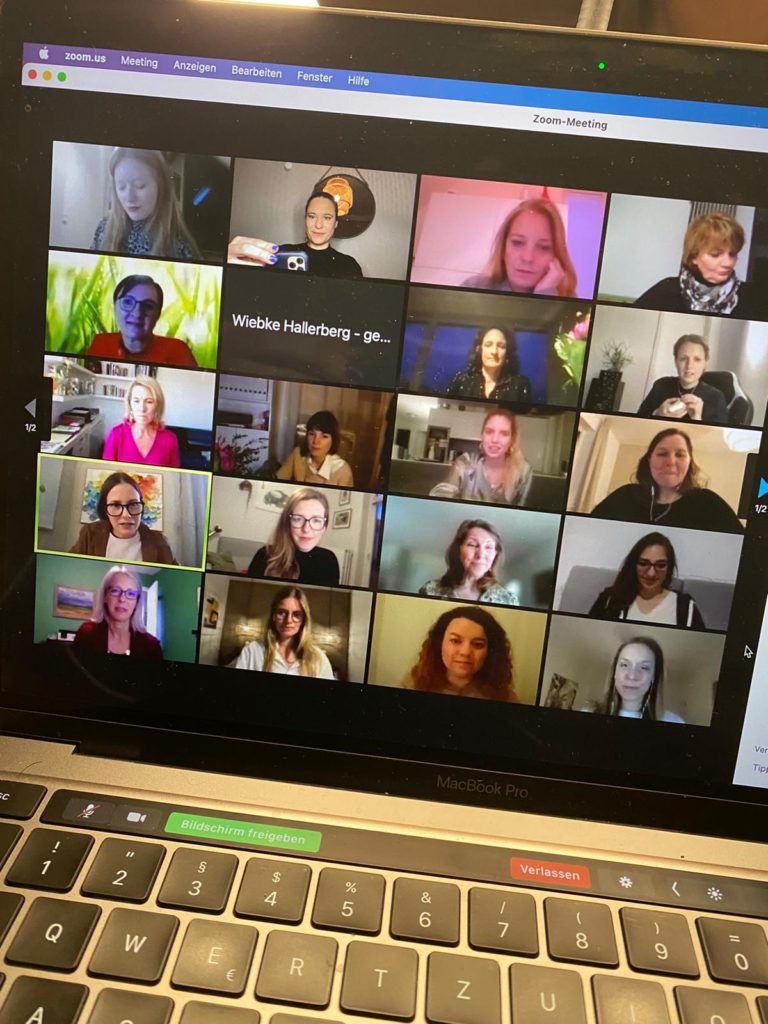 At 7 p.m. German time, german.innovation founders Claudia Schwarz and Sanja Stankovic welcomed the participants. But they were by no means the only hosts; other companies had been inspired by the concept. The retail giant QVC Germany, for example, was represented three times as a SXSW newcomer by Susanne Müller, Marielle Bergmann and Jeanette Lenski. Cornelia Frank from Baden-Württemberg International brought some SXSW experience with her. This was even more true for Kerry Rupp, partner at True Wealth Ventures, an investment firm focused on female founders, and Chelsea Collier, founder of the smart city initiative Digi.City, who work in Austin and have been great hosts for joint formats at previous SXSW editions. 
For the "Female Leaders in Sustainability" special edition, the hosts invited 30 female innovators from Germany and the U.S. who are working for a better future with sustainable ideas and products. Among them were the winners of the QVC NEXT>IN SUSTAINABILITY competition, Antonia Cox of Pottburri, Natascha von Hirschhausen with her eponymous fashion label, and Monica Wimmer of Nâmeco Cosmetics. Finalist Joana Gil from LignoPure was also there. You can read more about the competition here and here. Like all the other participants at the dinner, they deserve a more detailed portrait, but that would go beyond the scope of this little review. Perhaps there will be an opportunity to do so at another time.
Exciting topics in the breakout sessions
The "Female Leader in Sustainability" event opened with a great round of introductions. This was followed by several thematic breakout sessions, where the approximately 30 female participants divided into three groups: Kerry Rupp and Sanja Stankovic were available as experts on the topic of 'Investments in Sustainability,' the QVC team dealt with the relationship between large companies and startups, and Cornelia Frank, Chelsea Collier and Claudia Schwarz moderated the topic of 'International Cooperations.'
Sustainability was a common thread running through the talks. Here, the pandemic that has slowed down many startups, at least temporarily, may accelerate a change in thinking. More and more people are putting their consumer behavior to the test, and awareness of the need to act in the face of climate change is also growing visibly. This helps startups focused on sustainability to grow out of their supposed niches more quickly. But topics such as targeted investment in and the structural promotion and networking of underrepresented founders also played an important role in the discussions.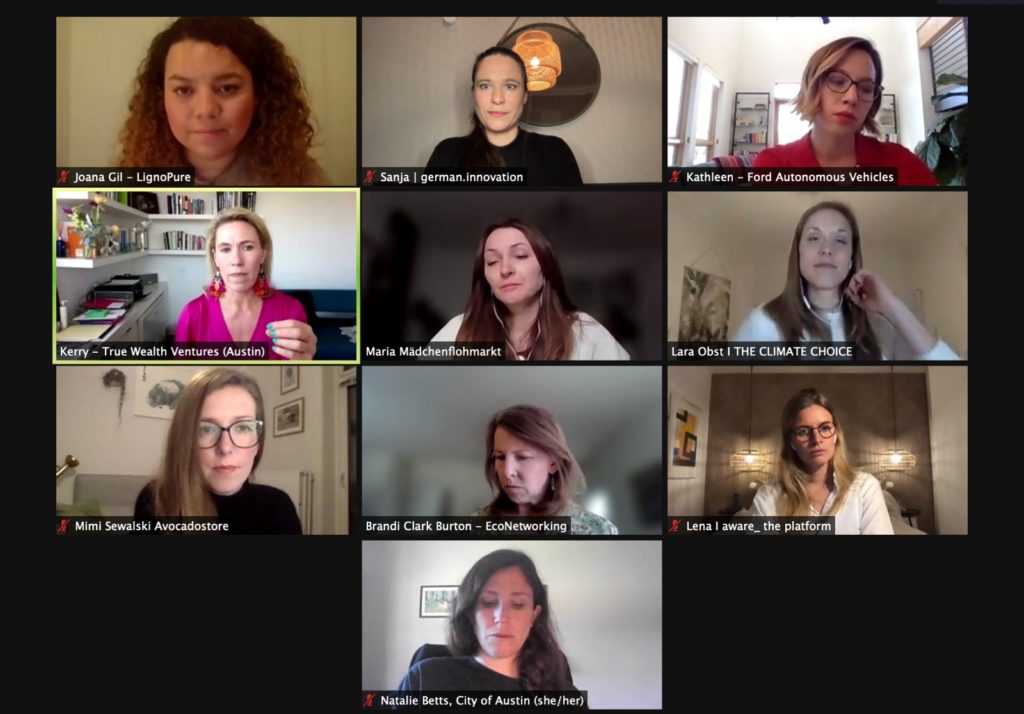 An inspiring experience with many new contacts
There was more than enough material for intensive discussions, and the 60 minutes were over far too quickly. All participants agreed afterwards that this Ladies Dinner was an extraordinary experience. Especially in times where personal meetings are hardly possible, many new contacts could be made here, at least digitally, and on an international level. It was also enormously inspiring to see how many impressive female innovators are working together on the topic of sustainability.
Of course, the series of "Ladies Dinners" will continue in 2021: the next one is already planned for spring, initially again as a digital edition. And while we continue to hope for face-to-face meetings soon, we will also continue to develop the digital format – especially for international networking. Perhaps there will be an inaugural SXSW in Austin, Texas edition in 2022 – we'd love that!